The Green Hope Colombia Foundation, in 2012, was contacted by Starkey Hearing Foundation, directed by Mr. Bill Austin, interested to develop a social project in Colombia. In the beginning they wanted to come to the Amazon Forest, but after analyze the logistics they decided to make a social work in Bogotá.
The Green Hope Colombia Foundation, decided to support Nukanti Foundation, who work in social work, children rights and young people in Altos del Pino, in Cazucá; Bogotá DC.
We visited the area, and after some meetings with local community leaders, we decided where it might be built the community center. The directors of Green Hope Colombia Foundation and Nukanti Foundation, Miss. Niousha Roshani; agreed to build an architecture with recycled plastic PET bottles, as an ecologic - environmental model in the area.
We organize a schedule with Starkey Hearing Foundation crew, and the architectural project was developed. After 3 months of planning and work, the community center was completed. Now is used for cultural, educational purposes and as a children community kitchen.
We hope to receive more support from the local government and private enterprise to continue our work and strengthen this type of project for a positive future for children.
During the project, a documentary filmed on experiences and project development. Colombia Green Hope Foundation was visited by actress Marlee Matlin, who won the Academy Award in 1987, and the former President of the United States, Mr. Bill Clinton.
We finished this project, with the support of all the people of Altos del Pino, Cazucá.
We would like to thank to all the Private Companies and Media that were interested to achieve the construction of this Community Center.
Special Mention and thanks to the Former President of the United States of America, Mr. William Jefferson Clinton; Starkey Hearing Foundation Director, Mr. Bill Austin; Mrs. Tani Austin; Mrs. Marlee Matlin; Mr. Steven Sawalich; Mr. Carlos Paz; Miss. Snejana Hristova; Nukanti Foundation Director, Miss. Niousha Roshani and all the Starkey Hearing Foundation crew, cameramen, coach, logistics, drivers and people involved in this project.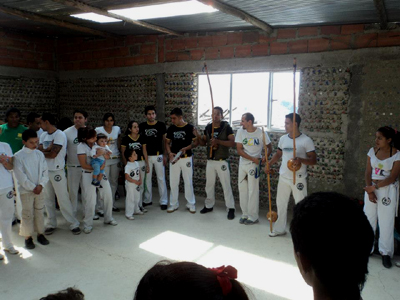 Capoeira´s Roda; with "Nativos de Minas" Group.
Community Center - Altos del Pino in Cazucá.

Partners.